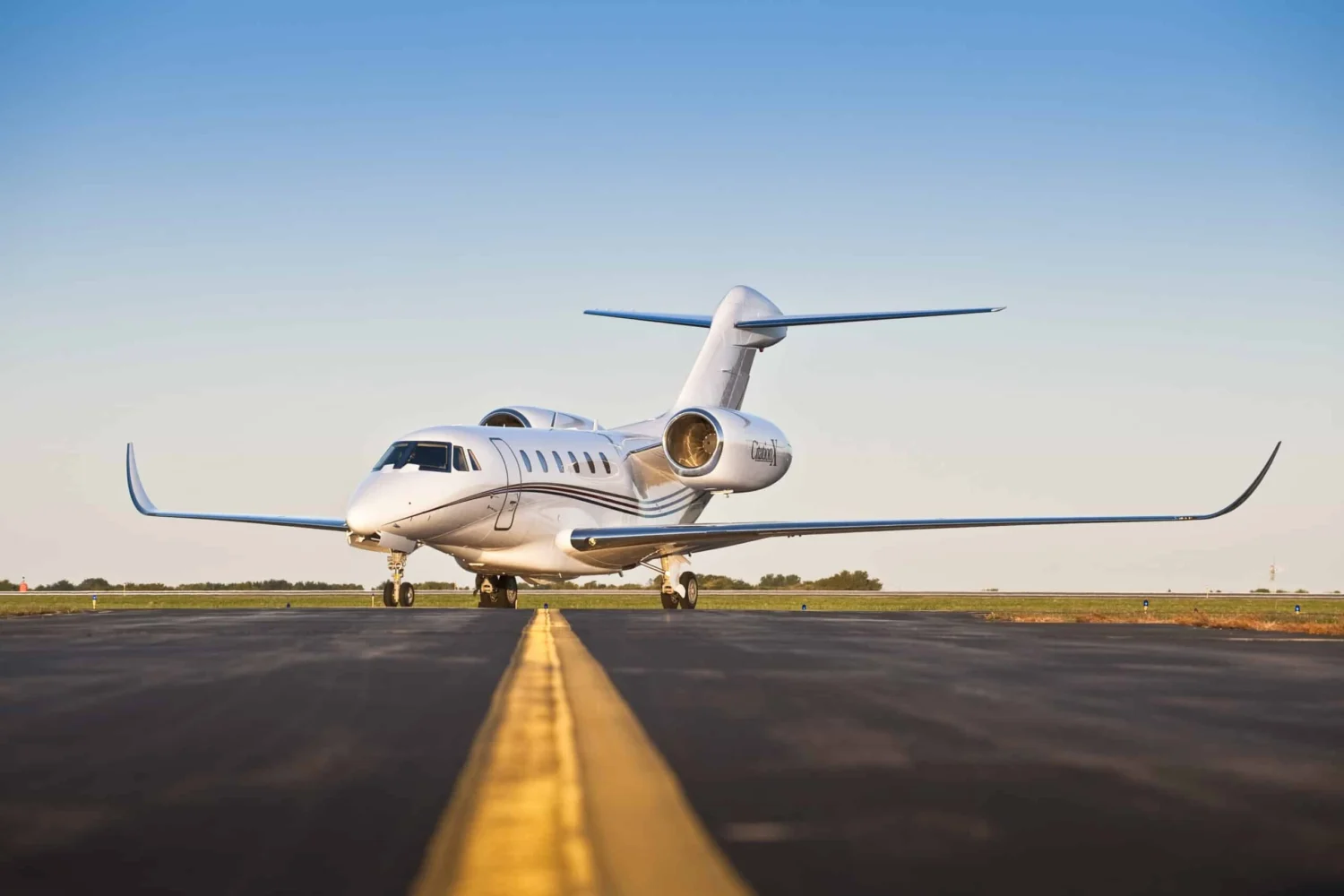 The Cessna Citation XLS+ delivers maximum comfort, performance, and economic efficiency in the midsize plane segment. The aircraft is equally comfortable taking on short, mid, and long-range flights and its versatility has transformed it into one of the most popular business jets ever built.
A formidable option for travelers seeking comfort and extra amenities with the cost-effective efficiencies of a light jet, the Citation Excel Plus can fly upwards of four hours with four passengers on board. It can easily complete cross-regional trips such as Atlanta, Georgia to Phoenix, Arizona without additional fuel stops.
The XLS+ is a variant of the popular Cessna Citation 560XL series that began with the introduction of the Citation Excel jet in 1996. Its rapid success led Cessna to continue improving the aircraft and in 2004 the manufacturer unveiled the Citation XLS featuring a new glass cockpit and upgraded engines. In 2008, Cessna enhanced the aircraft yet again to keep up with customer demands, dubbing the new variant the Citation XLS+. In 2021 Cessna's parent company, Textron Aviation, released the Citation XLS Gen2, a version of the aircraft boasting a new interior design.
More than 1,000 Citation 560XL jets have been delivered to owner-operators worldwide, from government to private jet charter and fractional customers. To date, the fleet has accumulated more than five million flight hours since the jet's introduction almost 30 years ago.
Cessna Citation Excel/XLS/XLS+ Interior
Inside the Cessna Citation XLS+, the cabin's smart use of space invites passengers to get comfortable. Next to the entrance is a large storage area with a closet to hang clothing and store personal items. A nearby refreshment center can also accommodate ice, refreshments, and light snacks.
When it's time to get comfortable, you can select from six club seats facing each other, or a side-facing couch located in the forward cabin area. The large leather seats feature tracking to smoothly shift forward or aft, making it easy to have face-to-face conversations with passengers sitting across from you, or even behind you. Ample legroom and headroom invite passengers to stretch out and relax or focus. Some upgraded Citation XL and XLS+ models also feature amenities like USB ports at every seat for rapid connectivity on board.
Travelers eager to remain productive during their flight can utilize the jet's large stow-away tables which offer a generous work surface for laptops, mobile devices, and documents.
Toward the back of the cabin, passengers benefit from an externally serviceable, flushing, full-width lavatory with an accompanying sink and extra storage space.
Most of the luggage is stored in the external baggage space area of the Citation XLS+, and the jet features 90 cubic feet of space to easily accommodate large suitcases and other personal items.
Cessna Citation Excel/XLS/XLS+ Interior Dimensions
| | |
| --- | --- |
| Max. Passengers | 8 |
| Cabin Height | 5'7 inches |
| Cabin Width | 5'5 inches |
| Cabin Length | 18'7 inches |
| Cabin Volume | 422 cubic feet |
Cessna Citation Excel/XLS/XLS+ Baggage Capacity
| | |
| --- | --- |
| Total Weight | 800 pounds |
| Total Size | 80 cubic feet |
Whether you're heading to meet new clients or your next vacation, the Cessna Citation Excel/XLS/XLS+ is one of the many planes we offer, and is a dependable option if you're seeking economic efficiency without compromising comfort and convenience.
Interested in booking your next trip in the Cessna Citation Excel/XLS/XLS+? Contact us to learn more.